About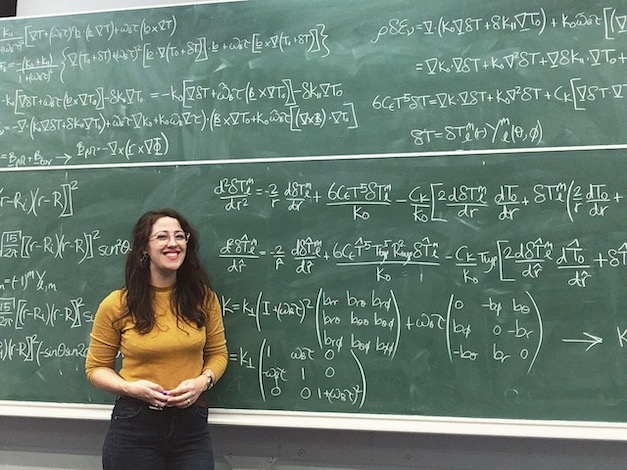 Dr Emma Osborne is an astrophysicist and multi-award winning science communicator, who loves to communicate complex physics topics in a way which makes them accessible to everyone. Emma received her PhD in theoretical astrophysics, from the University of Southampton in 2020 and is currently an Ogden Trust Outreach Fellow at the University of Bath.
Emma likes to engage the uninitiated, by putting science in places you wouldn't usually expect to find it. In her live talks, Emma breaks down the conventional lecture style of delivering a talk followed by questions, by inviting the audience to ask questions from the very beginning. Encouraging audience participation in this way, enables the audience to guide the content of the talk, making each performance a unique experience.  This novel approach to science communication is becoming Emma's signature style.
Emma has worked with the BBC, New Scientist, London Science Museum and The Royal Society to name a few, as well as regularly creating physics content for her popular YouTube channel 'The Extraordinary Universe', Instagram, Twitter and TikTok. Emma's efforts have not gone unnoticed as she has received recognition by being presented with the following awards: the Maths PGR Outreach Award, STAG Public Engagement Prize, WiSET Award and SEPnet Public Engagement Newcomer Award, as well as being a finalist for other outreach recognition events.
Awards and Recognition
May 2019- Maths PGR Outreach Award
March 2019- STEM for Britain Finalist
October 2018- STAG Public Engagement Prize
May 2018- WiSET Award
December 2017- SEPnet Public Engagement Newcomer Award
November 2017- Institute of Physics Early Career Communicator Award Finalist
March 2016- I'm a scientist get me out of here competition winner
Collaborations
BBC Tomorrows World
Tatty Devine
Universe Today
The Jodcast
Rosabloom